Headline, Subheadline and CTA
The One Million Impressions Campaign
Customizable. Affordable. Measurable.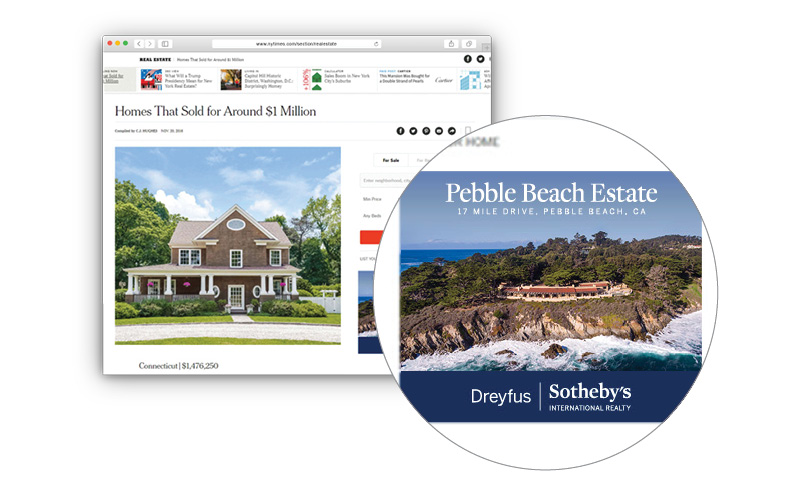 "We have found the One Million Impressions program to be vital to our ongoing marketing campaigns. Our sellers love to see their property ads pop up when they are on the web for news. And we love the name recognition it gives to our agents and brokerage."
Sandy Timm, Broker
Dreyfus Sotheby's International Realty
Fill out the form to get more information!
The Sky Ad team can build a banner ad campaign to set you apart from your competition. Please take a moment to complete this form. We will contact you soon to customize a program based on your needs and the needs of your clients. Thanks!
<!--[if lte IE 8]><!-- [et_pb_line_break_holder] --><script charset="utf-8" type="text/javascript" src="//js.hsforms.net/forms/v2-legacy.js"></script><!-- [et_pb_line_break_holder] --><![endif]--><!-- [et_pb_line_break_holder] --><script charset="utf-8" type="text/javascript" src="//js.hsforms.net/forms/v2.js"></script><!-- [et_pb_line_break_holder] --><script><!-- [et_pb_line_break_holder] --> hbspt.forms.create({ <!-- [et_pb_line_break_holder] --> portalId: '2081339',<!-- [et_pb_line_break_holder] --> formId: '206798d0-1fef-448a-a6b7-5a3d1608c6fc'<!-- [et_pb_line_break_holder] --> });<!-- [et_pb_line_break_holder] --></script><!-- [et_pb_line_break_holder] -->